Plesk WordPress Toolkit 6 is the latest of Plesks toolkit. Plesk remains a favourite here at Dx3Webs and its Toolkit has featured before. In this Blog we took a look at how to install the Plesk Toolkit with a video version available here.
Plesk released an update to their excellent WordPress Toolkit 6.0 late 2022. Plesk WP Toolkit 6 introduced one of the biggest product changes. The long awaited REST API was finally included along with a number of popular customer requests.
REST API
Many customers had been requesting the REST Toolkit API. Whether to automate work flow or to build their own solution on top of WP Toolkit, the REST API is now available.
Plesk states
As a rule of thumb, if you can do something from the Installations tab GUI, you can do it via API. You can even build your own custom WP Toolkit UI to offer your own user experience that's unique to your company.

https://www.plesk.com/blog/product-technology/wp-toolkit-6-0-release-now-available/
Plesk are aiming for 100% coverage of WP functionality. This will ensure that WP Toolkit will become a true "API first" product.
The long term goal is to allow customers to build whatever management solution they want using the WP Toolkit.
There are further improvements concerning Custom Labels.
WordPress Toolkit: Custom Labels
Plesk also introduced Label customisation. There is no longer a need to use the predefined labels. Customers now have the ability to change the colour and text making it far easier to differentiating between labels.
Email Notifications are no more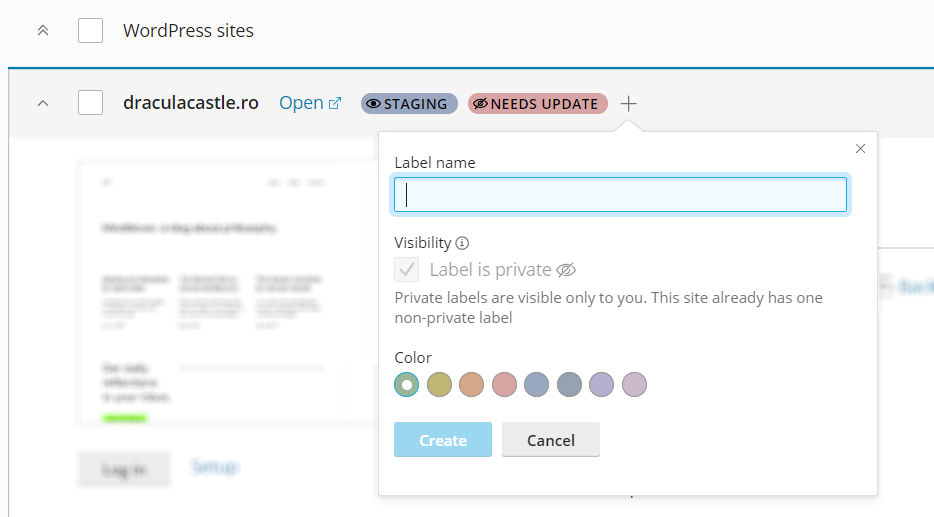 For those site administrators who were frustrated by the email notifications every time WP was installed, Plesk has now given you the option turn them off. A minor but confusing issue resolved.
Other Improvements listed by Plesk
wp-cli utility was updated to version 2.7
WP Toolkit now officially supports AlmaLinux 9 and RHEL 9 on Plesk.
When WP Toolkit has to work with legacy database servers, utf8mb4 symbols are now processed correctly.
Security improvements (not always visible, but always important).
Multiple bug fixes.
Name change?
Plesk have renamed their toolkit to Plesk WP Toolkit. This was simply due to trademark guidelines from the WordPress Foundation and the toolkit remains a direct successor to previous releases.
The future of WordPress Toolkit?
Plesk have already announced that smart PHP updates will be released later this year. Although 6.1 is unlikely to be as big an update as 6.0 it is clear that Plesk is focussed on continuing to improve their already excellent WP Toolkit.