As well as allowing users quick access to a filterable list of web logs Plesk also allows you to manage any log file from with in the web based GUI.  This is a trivial process and only needs to be done once.  Here are the quicks steps needed to manage your magento logs from within the plesk interface.
Step One
Select the logs icon from your Domain panel

Step Two
Click on Add custom log from the drop down at the top right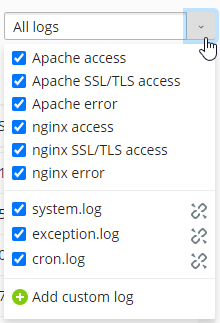 and navigate to your log folder (usually httpdocs/var/log)
You may wish to add your system.log / exception.log / cron.log for starters.  Simply repeat the process for each log.
Once added you can use the same drop down to filter your logs eg search for all mentions of "index" in web error logs and magento logs:

or quickly search for an email issue in exception.log

This is a powerful visual tool for quickly tracking down problems or simply to keep track of crons.
Looking for powerful, fast, secure, managed, PCI accredited  Magento / Plesk hosting… take a look at our packages. 
If you are looking for a plesk cloud server take a look here