The last two years have, by any measure, been challenging.
Fast approaching the end of the year and we are faced with headlines stating "e-commerce will record negative growth in 2022".
Quite the sound bite I think you will agree.
As always there is more to the story and it is not all doom and gloom.

It is true that this year marks the first time in its history that ecommerce will record a drop: a -2.5% drop in revenue vs an original prediction of growth just a year ago.
Firstly, some perspective. Despite the drop in revenue, e-commerce remains the dominant player in the digital economy.
With a 68% share it is unlikely this will change any time soon.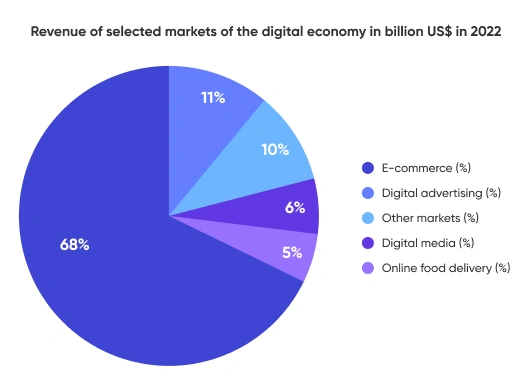 Many, if not all the major sectors have been cutting costs in response to global market conditions. Key players like Amazon and Etsy alone make up -55.2% in the average change in stock prices. Shopify continues to disappoint.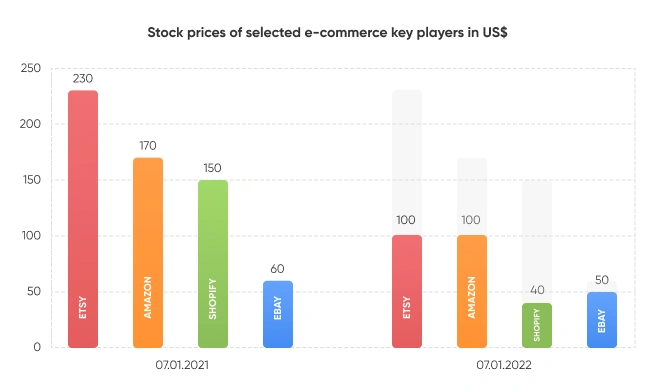 There is no doubt that this year we will see negative growth.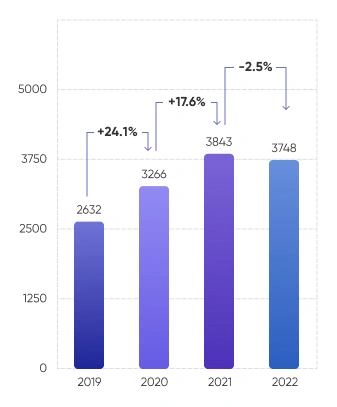 We can break this down further and look at categories.
To begin it will come as no surprise that food and drink remained relatively strong. We may not be ready quite yet to venture forth and forage. Even still, these figures are worse than in 2021.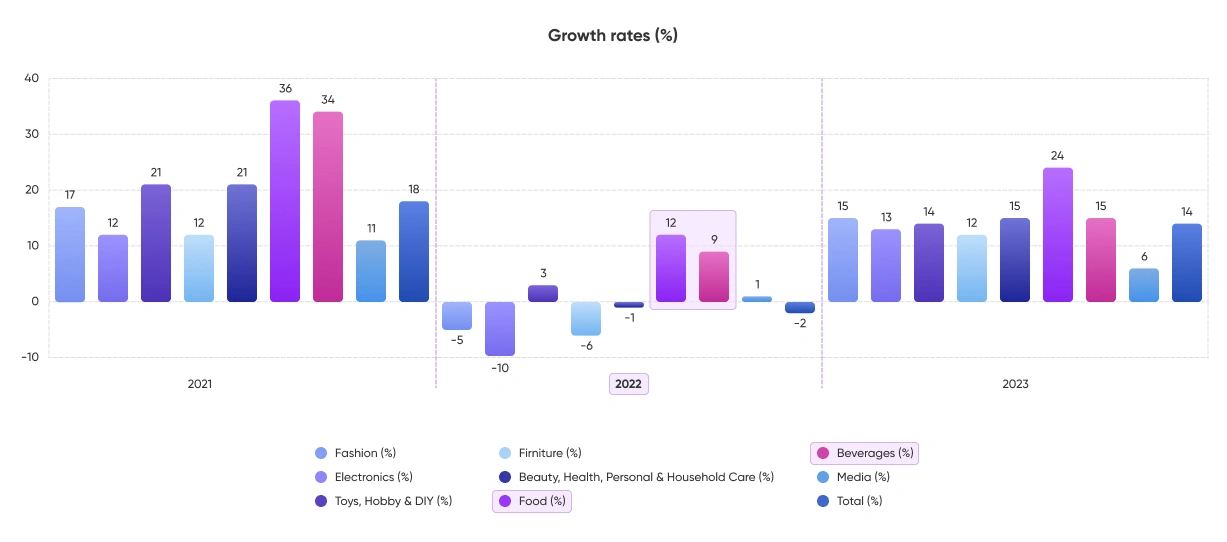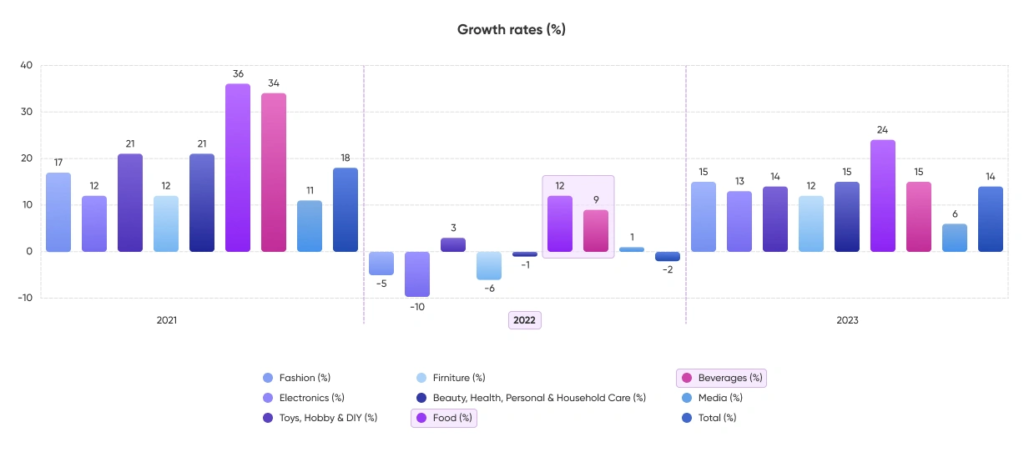 The gradual end to many of the more stringent epidemic measures did see some improvement in travelling and tourism. This is reflected in the figures with significant pull back post 2020.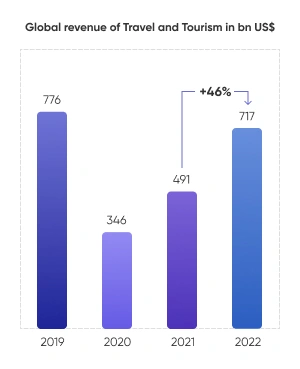 Current Challenges for e-commerce
Anyone who runs an e-commerce site or has attempted to buy certain items will be well aware of current supply chain issues. The not at all laboured abbreviation that is GSCPI (Global Supply Chain Pressure Index) remains at its highest peak.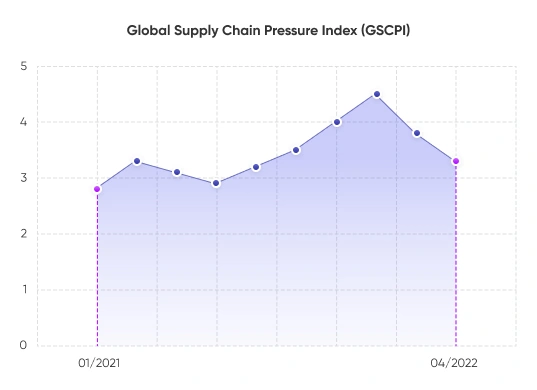 Inflation also plays its part and the consequences can be felt.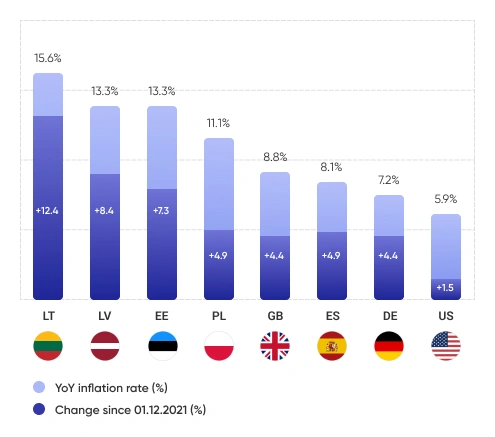 The end result is people have less money to spend, and that money is now worth less than it was.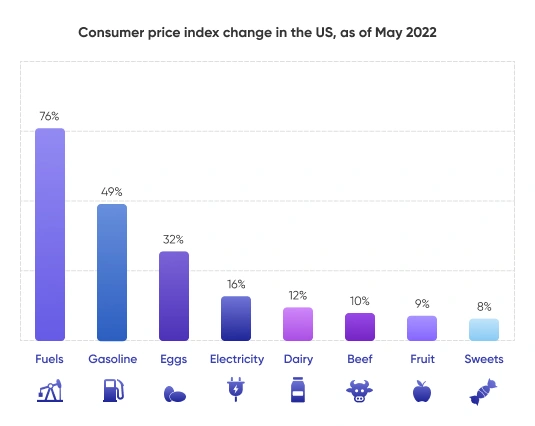 The current global situation has led to this: supply chains, inflation, the decline in purchasing power and the resulting negative growth in e-commerce.
Trends in B2C and B2B
There has been a transition in certain sectors from marketing-first to direct-to-customers (D2C). The main advantage of this is to decrease the cost of traditional advertising resulting in greater profit margins.
This is certainly true in certain sectors but it is not universal.
Some companies have approached the problem with more money on traditional advertising.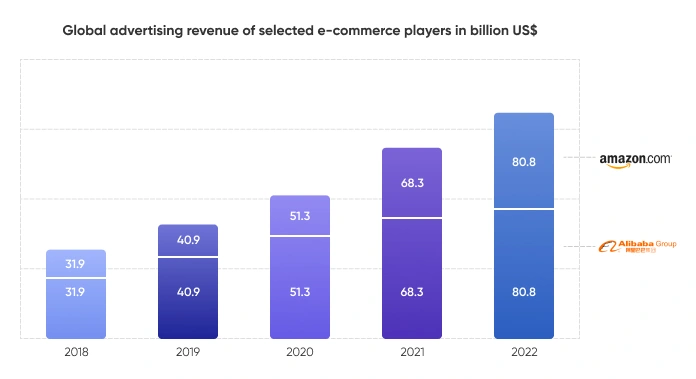 Geographical differences are apparent where developing countries will see a marked increase in B2B. This prediction of growth continues for other countries just not at the same pace.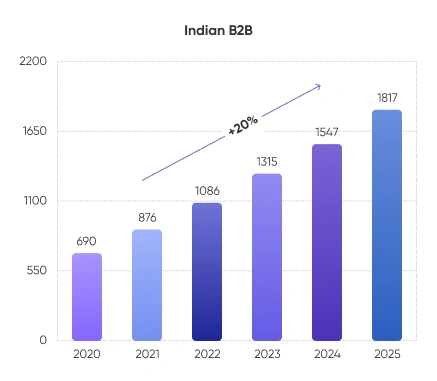 Another trend is known as the Vertical market place model.
Here shops offer a focussed range of products.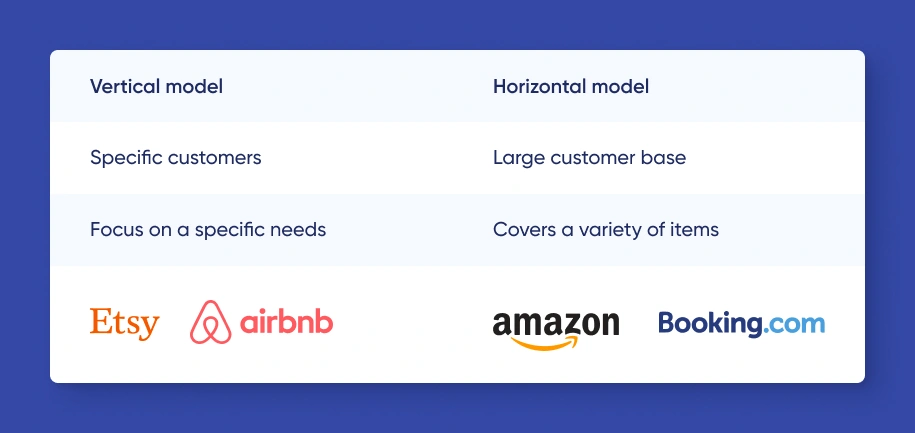 This focus on specific products capitalises on Personalisation.
To do this businesses leverage big data, AI, ML, flexible quoting, account-specific buying agreements, and more.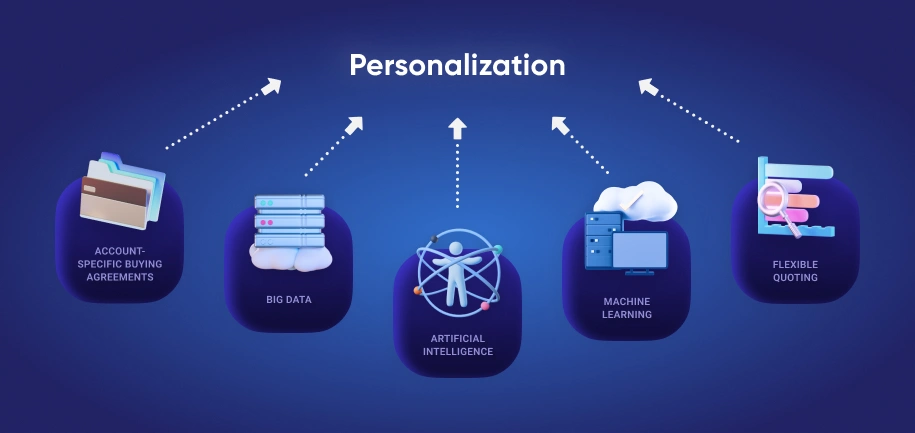 Mobile e-commerce continues to grow and shows little signs of slowing down. As of now, mobile influences over 40% of revenue in leading B2B organisations, a figure that will continue to grow.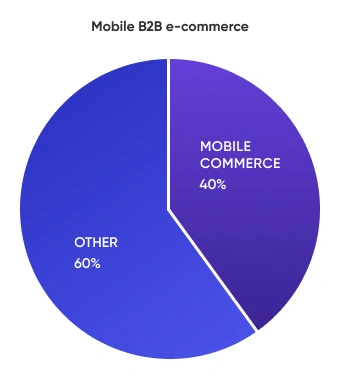 VPS Cloud platforms continue to grow while many still take advantage of dedicated platforms.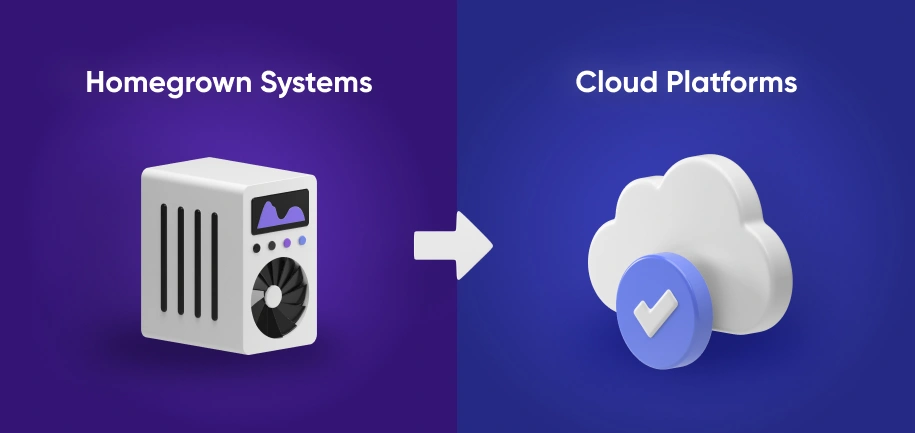 A omnichannel approach to sales that seeks to provide customers with a seamless shopping experience, whether they're shopping online from a desktop or mobile device, by telephone, or in a brick-and-mortar store.
Not a new trend but this continues to grow in popularity gradually replacing multichannel strategies.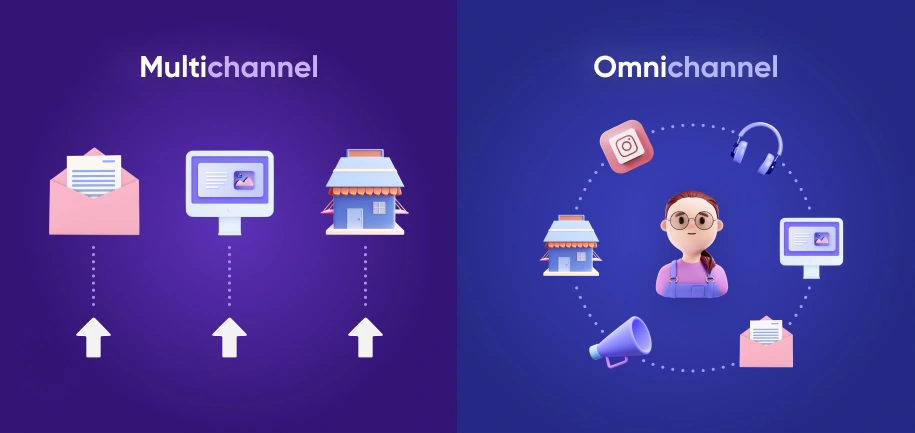 Business to everyone (B2E)
Business to everyone is becoming a new approach, both for B2C and B2B. It mainly results in the fact that certain characteristics of B2C are adopted by B2B and vice versa. Mobile commerce, which is now catching on in B2B, is a feature that used to be more inherent in the B2C market.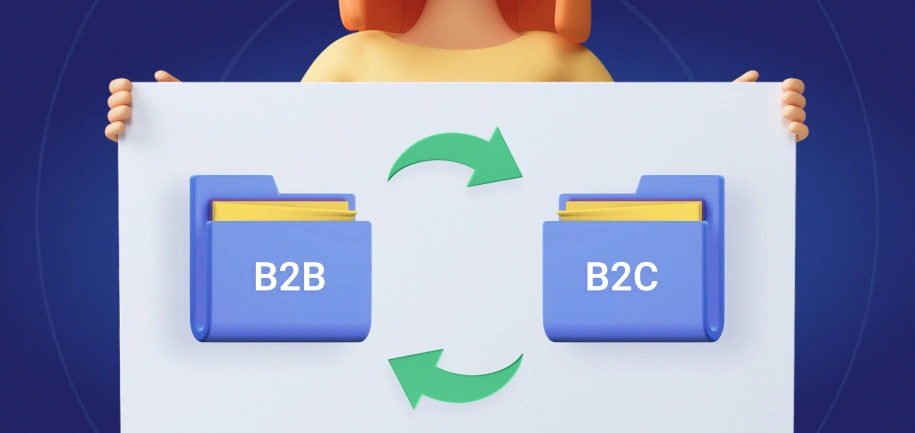 The future of e-commerce
Despite the doom and gloom of the present day market e-commerce has a very bright future. There are no signs that suggest e-commerce will not continue to grow after the economy has righted itself. Experts are predicting growth for e-commerce by 2025.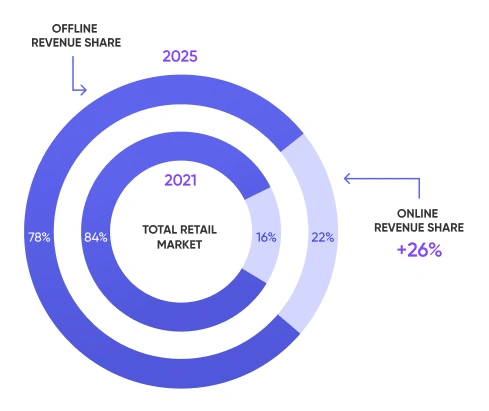 Revenue growth is expected to recover next year and increase by 14% by 2023.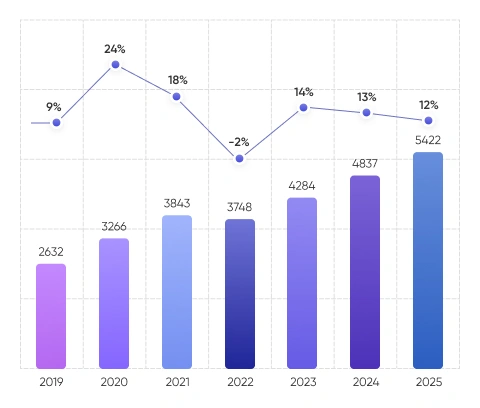 So despite current market conditions there is no doubt that e-Commerce will continue to be the dominant player in the digital market place.